Bad Blood 2003
Oh sweet jebus what am I doing?
The Dudley Boys Vs Rodney Mack & Christopher Nowinski
oh man how awful does this look on paper? So awful I'm not even attempting to watch it.
Rating: NO
CAL SCALE – -1
A burping contest takes place. Why oh why?
Scott Steiner Vs Test – Winner gets Stacy as a manager
NO! No! No!
STACY IS FUCKING FAP FAP FAP THOUGH!
Rating: NO
CAL SCALE – -1
Christian Vs Booker T – Intercontinental Championship Match
I can't do it. Not after their Insurrextion match.
Rating: NO
CAL SCALE – -1
A pie eating contest next. Fuck me this is awful.
La Resistance Vs RVD & Kane – World Tag Team Championship Match
Sorry, I can't sit through a match with 3 people who absolutely suck. Kane ain't enough to make me watch it.
Rating: NO
CAL SCALE – -1
Chris Jericho Vs Goldberg
Honestly don't wanna watch this either, but it's a big match and I AM kinda curious to see how it turned out. Can't be worse than Rock/Goldberg, right?
Jericho tries to play mind games with Big Bill, running away and escaping to the outside, but Goldberg just fucking charges at him and starts to beat the shit out of him and well, given their history it looks like Goldberg is legitimately trying to hurt Chris
.
"Goldberg please go away" sign in the front row
.
SPEAR! SPEAR! SPEAR! GOLDBERG SPEARED THE SECURITY WALL
.
Lawler in the most sarcastic tone of voice ever: "Oh the mighty Goldberg is injured!"
.
Goldberg is bleeding too
.
Fuck me, how is Goldberg still throwing kicks? He already killed Bret Hart's career, and jebus he gets a couple of shots in on Jericho that looks brutal as fuck and not in the fun Tajiri way.
Jericho works the arm, because that's the only match you can do with Goldberg apparently.
GOLDBERG SUCKS chants
.
At least Goldberg is selling the arm in this match when he SHOULD be selling it. Not that the HHH match where he gets confused
.
Big Y2J chants now.
2 SPEARS on Jericho. First one hurt him just as much, the second uhhh… apparently wasn't as bad since he got right up and hit the Jackhammer
.
This was… watchable. I basically enjoyed the 3 Spears
.
Rating: *
CAL SCALE – 0
Ric Flair Vs Shawn Michaels
Well this has… potential for sure, though I don't remember it being that good, so we'll see how it holds up
.
Build up package was pretty sweet, one of the things WWE is usually always great at. Make me excited to see the match.
at HBK taking Flair down to the mat then WALKING ON HIM and doing a strut, followed up with a SLAP TO THE FACE. Awesome.
Shawn is all about trying to show up Flair early on, proving that he's better than his idol. Then Flair sees once chance to go for the legs and BAM, HBK is down.
FIGURE FOUR~!
Shawn escapes, then Flair starts fucking STOMPING on the knee of HBK. Looks awesomely brutal lol.
HBK USING THE FIGURE FOUR~! I don't think Flair is enjoying it…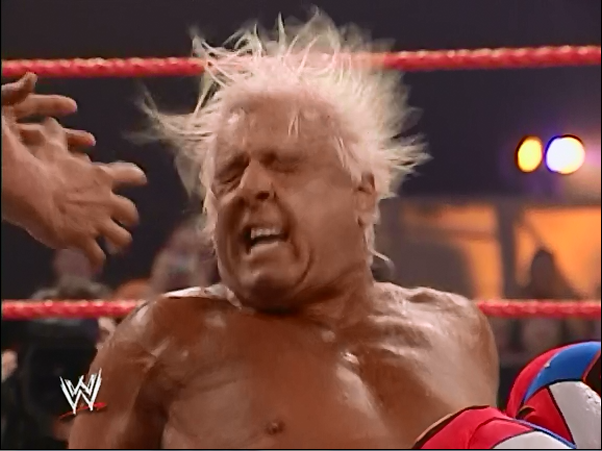 EYE POKE~!
at that "superplex". They'd have gotten more height doing it in the ring like normal
.
RANDOM TABLE~! Because this match needed a table spot apparently.
Orton shows up out of nowhere and gets… knocked out instantly
.
CROSS BODY TO FLAIR THROUGH THE TABLE~!
I just noticed a guy in the front row dressed up like Tigger
. WHO DOES THAT?
DOUBLE LOW BLOW TO HBK AND THE REF
.
SWEET CHIN MUSIC~!
ORTON WITH A CHAIR TO HBK'S SKULL~!
FLAIR WINS~!
I liked most of this. Wasn't great but certainly good.
Rating: ***
CAL SCALE – 2
Signing contest now. Kill me.
Triple H Vs Kevin Nash – World Heavyweight Championship Hell in a Cell Match – Mick Foley Special Guest Referee
the build up for this match was based more around FOLEY being the special referee. And then Foley comes out LAST rather than like, the WHC
. FOLEY IS BIGGER THAN THIS MATCH.
the match even starts with HHH getting in FOLEY'S face with Nash standing in the background.
at HHH fumbling over the ropes to the outside. Guy can't even be thrown to the floor properly in 2003
.
NASH SHOVES HHH INTO FOLEY~! Foley… doesn't care
.
HHH gets thrown into the side of the cell a number of times, but it's a back body drop on the floor that gets any kind of reaction from the fans
.
at Nash choosing the one corner with a camera man stood in to push HHH into
.
For all the
I'm doing, don't confuse that with me hating this match so far btw. It's actually been a pretty good brawl so far. Nash is just fucking MAULING HHH and that's fun to watch
.
TOOL BOX~!
HAMMER TO THE KNEE~!
HAMMER TO THE HEAD~!
WHY DID HHH GO FOR THE TOOL BOX RATHER THAN HIS SLEDGEHAMMER?
HHH and Foley have another confrontation in the ring, while Nash is dead from being hit in the head with a hammer
. Nash might as well go home
.
SCREWDRIVER~!
KEVIN NASH IS SCREWED~!
2X4 WRAPPED IN BARBED WIRE~! They are bringing out all the toys for this, aren't they lol? Makes sense, no way can they have a match as long as this one is and rely only on their wrestling ability
.
Fuck me HHH is POURING with blood.
SNAKE EYES RIGHT ONTO THE BARBED WIRE~! Awesome.
Some matches throw in a ton of weapons and it takes away from the match (see HHH/Jericho HIAC), but here, both guys mauling each other with weapons actually makes for a GOOD match.
WOODEN CRATE TO THE HEAD~! Where the fuck did that even come from? It was already just THERE on the floor. Must have missed when they brought it out
.
SLEDGEHAMMER~! So it IS there… he just decided on using a small normal hammer earlier because…
SLEDGEHAMMER~!
Why is Foley taking it away from him? Seriously? HELL IN A CELL NO FUCKING RULES DAMMIT.
HHH cracks Nash in the head with a chair and then… decks Foley with it too! Why? I dunno. Surely taking out the referee is a dumb move?
MADIBLE CLAW~!
FOLEY IS BLEEDING~!
LOW BLOW~!
Steel steps to Foley's face by Nash
. Seriously, Nash doesn't even need to be here
.
my favourite part of the match now. HHH shoves Nash into Foley, who flies off the apron into the cell. Nash lands a JACKKNIFE and covers… and Foley jumps right up and makes a count so HHH can kick out at 2 with absolutely no time to recover, making Nash's finisher look like shit
.
Take a shot every time someone says BASTARD during this match. You'll be fucking HAMMERED
.
SLEDGEHAMMER TO THE HEAD~! PEDIGREE~! NASH IS FINISHED~!
Match holds up for sure. Really good, despite who is in it. A bloody, brutal HIAC match. Me likey.
Rating: ***1/2
CAL SCALE – 3
Overall CAL SCALE – 1