Taboo Tuesday 2005
Cage match
.
Chris Masters & Snitsky Vs Matt Hardy & Rey Mysterio
Raw Vs SD match. The internet voted who was involved in the match from Smackdown.
Edge is supposed to be Masters' partner but he bitches out and HOLY FUCK AT LITA FAP FAP. HOW DO HER TITS STAY IN HER OUTFITS?
Masters attacks Matt and Rey from behind as they await the arrival of Snitsky and gains the upper hand early on.
they have BOTH a Raw and a SD referee IN THE RING AT THE SAME TIME. Really trying to put over that brand split
. They argue cos they keep getting in each other's way.
Little bit of Rey in Peril to start, then a hot tag to Hardy who comes in on fire and nearly kills Snitsky with a botched superplex:
And then Masters absolutely kills Matt with a clothesline and we get a Hardy in Peril segment.
WE WANT CHRISTIAN chants
. He came second to last in the poll, only just beating out HARDCORE FUCKING HOLLY.
Awesome sequence with Snitsky countering a tornado DDT and throwing him right into Masters who catches him with a Master Lock!!!
They try to re-create the finish of Bret/Piper at WM… but Rey doesn't roll over and ends up just landing on top of Masters
. One ref tries to make a count anyway even though Masters' shoulders aren't down, and the other ref physically stops him from counting
.
In the end though, the SD guys get the win.
Fun opening tag. Few shitty moments thanks to Snitsky botching basic shit but overall decent.
Rating: **
CAL SCALE – 0.5
Mick thinks his and Maria's luggage might have got mixed up. She's wearing a Mankind mask. Then she strips and gives all her clothes to him
.
"Hey Mick, have a nice day!"
"I think I just did!"
"Not much upstairs, but what a staircase!"
Rob Conway & Tyson Tomko Vs Eugene & Jimmy Snuka
So the fans get to vote in a legend to be Eugene's partner. Snuka wins it.
I'm honestly surprised Eugene is still a think this far into 2005. When does he turn heel again?
Oh, btw… No.
Rating: NO
CAL SCALE – -1
Carlito Vs Mankind
The fans had the chance to pick with version of Foley faces Carlito. I was always pleasantly surprised that they picked Mankind rather than Cactus Jack, just because I always preferred Mankind
.
I have to say though… WHY THE FUCK IS THIS MATCH EVEN A THING? Who thought it would be a good idea to put Foley in the ring with Carlito? I get wanting to put over young stars… but Carlito Vs Foley? I just don't get it lol.
Awesome to hear the old Mankind theme too. I like the whole "eeeeerrrrrrrghhhhh *CRASH* do doo do do do doo do do doo" theme as much as the next guy, but the original Mankind music is GOAT.
Poor Mick. He's moving at like 2mph, compared to the 1029928738743mph he was doing in 04 against Orton (at Backlash, anyway
). He wanders through the match with his Mankind offence, until Carltio avoids a chair shot and poor Mick smashes his face into the chair into the steel steps
.
Foley makes up for his lack of ring shape by taking an awesome bump off a dropkick, flying head first into the ring steps again.
Man, Carlito is dull as shit on offence. Seriously, they are wasting Foley on this match?
CACTUS CLOTHESLINE~!
CACTUS ELBOW~!
DOUBLE ARM DDT~!
MR SOCKO~! WITH AN AFRO~!
MANDIBLE CLAW~!
Mankind wins.
Well… Mankind winning makes this whole thing even MORE pointless lol. Carlito didn't look good in the match, his offence sucked and he lost. Yey.
Rating: *
CAL SCALE – 0
Vince McMahon pays Bischoff a visit, wanting to know how the Raw Vs SD tag went. He can't believe Raw lost the match on a Raw PPV. He's disappointed in Bischoff.
We gotta find out who will enter the triple threat WWE championship match later tonight, so we also know who WON'T be in it, so they can team up to wrestle for the tag belts. Kane, HBK and Big Show are the options. WOW I WONDER WHO WILL WIN THIS? BET IT'S A CLOSE RACE. Huh, actually it was pretty close between Kane and HBK, but HBK wins.
at HBK looking to get a handshake or a hug from Kane
.
Lance Cade & Trevor Murdoch Vs The Big Show & Kane – World Tag Team Championship Match
TREVOR MURDOCH
. HOW IS THIS GUY NOT ACTUALLY RELATED TO DICK MURDOCH? HE LOOKS JUST LIKE HIM!!! Then again Arn wasn't related to Ole and they looked just like each other lol.
WEIGHING 507… POUNDS AND 7 FEET TALL, THE BIG SHOW!
at Murdoch when he realises he's stuck between Kane and Big Show. He just spazzes out then walks into an uppercut
.
Big Show seems genuinely PISSED OFF at Lance Cade, and absolutely batters him in the corner.
SWEET N SOUR ON THE FLOOR TO KANE~! That's when Murdoch chops the back of the knee and Cade clotheslines the guy at the same time.
Cade & Murdoch do a nice job of controlling Kane. They were a pretty good team at the time from what I remember. Shame they broke up and their careers in WWE were basically over from there.
In the end, the pure power of Kane and Show is too much for the tag champs. New champions!
Fun match.
Rating: **1/2
CAL SCALE – 1
VADER. GOLDUST. THE COA…ch? LOL.
The divas all come out in sexy robes as we see what they will have to wear in the diva's battle royal later. Lingerie, Leather & Lace, or Cheerleader? LINGERIE WINS FAP FAP FAP.
Batista Vs The Coach – Street Fight
So this was either gonna be a street fight, verbal debate or arm wrestling match lol. I'M SHOCKED THE STREET FIGHT WAS PICKED. 91%?
Oh and this was also supposed to be Austin Vs The Coach, but Austin was in a "car accident". Which actually means WWE wanted COACH TO WIN and Austin told them to fuck off. So Batista replaced him!
GOLDUST AND VADER are here to help Coach. GOLDUST. VADER. WWE. 2005. That was fucking awesome. At least we have Goldust in the company still today
. And we saw Vader last year too.
"SHALL WE DO THE RIGHT THING AND CALL COACH'S NEXT OF KIN? OR AT THE VERY LEAST FIND A NEW HOME FOR THE INFLATABLE WOMEN HE LIVES WITH?"
Joey has had a TON of awesome lines all night btw.
Street fight means no DQ, so Coach can hide and let Vader & Goldust do the dirty work for him. VADER. GOLDUST.
KENDO STICK~! Goldust mauls Batista with a Kendo stick! THAT'S WHAT YOU GET FOR ELECTROCUTING HIM!!!
Vader and Goldust hold down Batista and Coach gives him the BELT. This only angers the animal.
SPINEBUSTER TO VADER~!
SLAP TO COACH~!
BATSTA BOMB TO COACH~!
Goldust survives without taking any major hits somehow lol.
Too short to be anything special, but immensely fun just to see VADER AND GOLDUST at this time.
Rating: *
CAL SCALE – 0
HBK gets interviewed. Angle shows up and offers to put their differences aside to they can take out Cena together then go at it one on one for the title. Shawn will think about it.
Trish Stratus Vs Mickie James Vs Victoria Vs Maria Vs Ashley Vs Candice Michelle – Lingerie Fullfil Your Fantasy WWE Women's Championship Battle Royal
LINERIE
.
FAP.
MICKIE JAMES FAP FAP FAP BOUNCY BOUNCY BOUNCY FAP FAP FAP.
MARIA FAP FAP.
Trish is kinda boring in her attire tbh lol. Just basic bra and panties. Same with Victoria. In fact Victoria looks like she's in her normal ring gear
.
Trish wins thanks to Mickie James constantly saving her and sacrificing herself.
FAP.
Rating: *
CAL SCALE – 0
Triple H Vs Ric Flair – WWE Intercontinental Championship Steel Cage Match
been waiting to see this one again.
I never understood HHH's motive. He was out injured, and while gone Flair won the IC title and… HHH decided it was time for Flair to leave. Because… ummm… Flair won the IC title. Makes sense.
NOT.
Dammit now I wanna go watch Wayne's World. BRB 2 hours.
Aaaand back. Film still rules
. Where was I? Oh yeah…
I like how instead of WWE giving us 2 shitty options and 1 real option, giving us the appearance of choice but really controlling it… for this match Flair comes out and basically orders the fans to vote for the cage match
. No bullshit, no pretending you have a choice; flat out telling you he's having a cage match so vote for it!
Flair is fired up in the opening of this match, avoiding and blocking punches from HHH and coming back with punches and CHOPS of his own. WOOOOOO. He even goes toe to toe with THE GAME in a punch off and GETS THE BETTER of him!
A high knee causes the downfall of the Nature Boy though, and now HHH can begin to work on putting Flair DOWN. Which ain't gonna be easy because the NATURE BOY is still better than HHH even in his twilight years WOOOOO.
HHH sends Flair into the side of the cage and BLOOD~! Lawler even sarcastically comes out with "that didn't take long"
.
Flair is awesome selling it though. You can hear him screaming "oh god, arrrghhhh" and shit
. Especially after the knee drop to the face that HHH stole from Flair. He's just fecking awesome at making you believe he's in pain.
After some more shots into the side of the cage, punches to the face and another knee drop, HHH seems to think this is over and begins to climb out, only to stop and come back in when he sees that Flair is up and climbing the ropes to get him!
Not really a fan of HHH trying to climb out there. He hadn't done nearly enough to Flair to END HIS CAREER or anything. He was literally just trying to WIN the match, which this isn't about.
HHH again tries to climb out because… I dunno any more… but while trying to escape, he unhooks some chain by accident and decides "fuck it, amma go back and hit Flair with this", and the match continues
.
FIGURE FOUR COUNTERED WITH A PUNCH TO THE FACE USING THE CHAIN~!
FLAIR KICKS OUT~!
"OH GOD, JESUS CHRIST ARRRGHHH!" More awesome selling from Flair
.
the referee takes the chain away from HHH and the fans BOO. I guess they were hoping Flair would get it and use it? I dunno.
Flair is bleeding and hurting, and HHH is practically having FUN. He's slowly working over his former mentor, punching him in the face some more, dropping the knee onto the back of his head, and the ultimate insult; figure four leg lock!
Flair screaming I'LL KILL YOU at HHH while trying to reverse the figure four is the greatest thing I think I've ever seen since Micke James was bouncing around in lingerie earlier in the show FAP FAP FAP.
MIDDLE FINGER FROM FLAIR~! HE REVERSES THE FIGURE FOUR~!
HHH gets to the ropes and… the referee breaks the hold because… ummmm. NO DQ YOU DUMB FUCK.
HHH FACE FIRST INTO THE SIDE OF THE CAGE~!
HHH PULLS A FLAIR AND BLADES THE FIRST CHANCE HE GETS~!
FLAIR JUST CHARGES AND JUMPS AT HHH AND STARTS BITING HHH'S FACE
. Flair is without a doubt the greatest of all time. Except for maybe TERRY FUNK. I think I need to go watch their matches later lol.
PAYBACK IS A BLOODY BITCH HERE TONIGHT AT TABOO TUESDAY~! Ha, that sounds a lot more ENGLISH when you read it, knowing it was written by me
.
The Nature Boy is back in control, and now he's getting back into a grove, and it's VINTAGE FLAIR as he begins to work over the leg of HHH!!!
THE REAL FIGURE FOUR LEG LOCK~! HHH TRIES TO ESCAPE SO FLAIR THUMBS HIM IN THE EYE~!
"THERE IS A FOREARM RIGHT TO THE BALLS AND IT'S PPV SO I CAN SAY IT"
Styles fucking rules tonight.
"HE'S GOT A HANDFUL OF NUTS! HE'S GOT THE TESTICULAR CLAW ON HHH!!!"
this is the greatest thing ever.
Multiple chair shots to the fucking FACE of HHH, and this is a genuine reaction from a fan: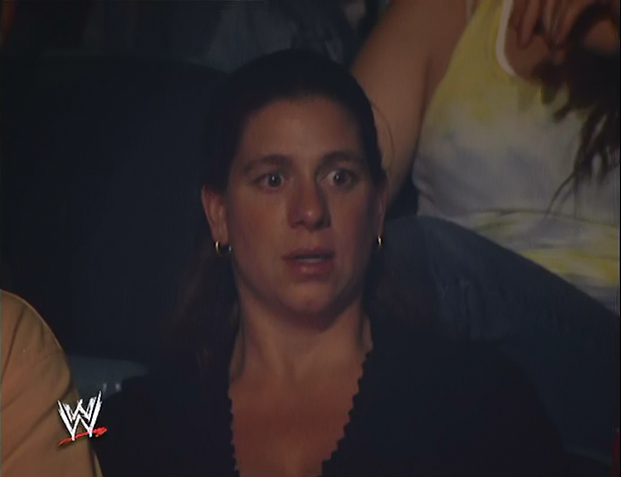 FLAIR WINS!!!
This. Is. Incredible.
Truly. Incredible.
I'd have to watch Backlund/Slaughter cage from 1981 again to see which is the best in company history.
Rating: ****3/4
CAL SCALE – 8
They announce they've had over 6 million votes tonight. I'd quite like to see TT/CS come back, maybe could be a WWE Network exclusive show, once the Network makes it to places other than NA of course lol.
John Cena Vs Shawn Michaels Vs Kurt Angle – WWE Championship Match
Angle asked Shawn befoe this match to team up with him and take out Cena. HBK says he'll think about it. Angle attacks HBK after the bell and goes to work on Cena alone
.
Angle botches ducking a clothesline… causing HBK to just club the side of his neck
. Not what you need with a history of neck problems tbh
.
ANGLE SPAMMING SUPLEXES~! AND I DON'T GIVE A SHIT BECAUSE THEY LOOK AWESOME~!
Angle and HBK finally end up on the same page and the crowd POP like fuck because they are both mauling Cena
. Man, Cena stopped being uber over pretty much the moment he won the title
.
Remember the WM XX triple threat, when HBK and HHH stood on one announce table, and did the front suplex to Benoit through the OTHER table to take him out for a while and it looked brutal as fuck? Well here Angle and HBK do the same thing… but stood in front of the table, and it looks like absolute shit.
Yey just what this match needs… REST HOLD~!
the fans actually start chanting for CENA to get back in and add some excitement to the match.
SUPER ANGLE SLAM~!
OMG THE MATCH DIDN'T END THERE I DID NOT EXPECT SUCH A THING TO HAPPEN DURING A KURT ANGLE MATCH HOW DID THAT HAPPEN THIS IS THE GREATEST THING I HAVE EVER SEEN IN MY LIFE~!
Cena is back… and gets taken out not too long after. In fact, Angle throws him out into the crowd. Which is a bad idea because they hate him
.
KIP UP~!
KIP UP AGAIN~!
RIGHT INTO AN OVERHEAD BELLY TO BELLY SUPLEX OVER THE ROPES~!
F-U COUNTERED INTO AN ANKLE LOCK~!
Cena sits in the hold for a couple of minutes until HBK shows up and Elbow Drops Angle to break it.
SUPER KICK~!
F-U~!
Cena retains.
Well this was… ok. Kinda fun. Typical WWE triple threat formula.
Rating: **1/2
CAL SCALE – 1
Overall CAL SCALE – 9.5