No Way Out 2005
Don't think I've seen anything from this event since, uhhh… 2005. 9 years ago. The DVD was still in its wrapper too
.
Jericho's band Fozzy does the PPV theme for this event with ENEMY, the one and only song I like from the group
.
Rey Mysterio & Eddie Guerrero Vs The Basham Brothers – WWE Tag Team Championship Match
Wonder what Eddie & Rey can do with the Bashams. Hopefully something good.
My god could the Bashams BE any more boring on offence> [/Chandler]
I swear at one point one of the Basham's elbows Eddie and Eddie charges into the ring and seems legit angry that this match is sucking that the poor referee seems to be "work" trying to hold him back but Eddie is "shoot" trying to get involved
.
Eddie tries to cheat by extending the tag rope but gets caught. That's the highlight of this match so far and we're like 10 minutes in.
Rey does some stupid shit to move out of the Basham's way to get a tag to Eddie… except he HAS a chance to tag out and instead runs the ropes and does a couple more flippy things and THEN tags in. Urgh.
Hot tag and Eddie is immediately stopped. Yey. Just what this match needed.
Eddie goes for a tag belt to try and cheat, but Rey catches him and puts a stop to it. Meanwhile the Basham's do a switch and Eddie goes for a Frog Splash… but knows they switched, and rolls through, but pretends he crashed and burned and suckered the Basham into a quick roll up!!!
Only a 2 count though, and then some SHENANIGANS with the tag belt and Eddie wins the tag belts for him and Rey! Mysterio is a hypocrite. Stopped Eddie from cheating with the tag belt… then 30 seconds later throws the other tag belt to Eddie to cheat to win.
Last 2 minutes with Eddie being Eddie were the only good things about this awful, awful match.
Rating: 1/4*
CAL SCALE – 0
Rookie Diva of the Year Contest thingy happens. Basically a bunch of FAP FAP divas being all FAP FAP.
at Joy's credentials. All the others have things like "model" or "playboy model" or "personal trainer"… and she has: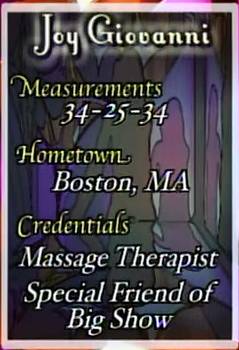 Big Show's "special friend"
.
Booker T Vs Heidenreich
Rating: NO
CAL SCALE – -1
Paul London Vs Funaki Vs Shannon Moore Vs Akio Vs Spike Dudley Vs Chavo Guerrero – WWE Cruiserweight Championship Elimination Match
FUNAKI is the champion? SMAKDUN NOMBAH WAN ANNUNCAR is also SMAKDUN NOMBAH WAN CROOZAHWAIT!
So 2 guys start in the ring (Funaki and London), while the other 4 men stand in seperate corners… but there is NO tagging. Instead they all picked numbers out at random and when someone gets eliminated, #3 comes in and they carry on from there.
FUNAKI IS ELIMINATED FIRST
. Spike caused a distraction and London rolled him up. So Funaki superkicks Spike and London pins him too.
THE PRINCE OF PUNK looks like a giant moron.
450 splash and London wins again.
AKIO~! I miss Tajiri
.
I prefer JIMMY WANG YANG.
TOP ROPE NECKBREAKER~!
Chavo wants the referee to count quicker so both men are counted out and he wins without wrestling. I'm all for that tbh.
Wait… Akio is eliminated because he didn't make it up? But London did so the count should have stopped. This isn't a last man standing match you dumb fuck. WHAT THE HELL?!?!
"Smart by Chavo to go after the neck. BETTER SMART by London to counter"
well done Tazz.
Chavo uses the ropes and wins.
Wow. A 6 man CW match and it was DULL AS SHIT. I'd have preferred a fucking spotfest than this. Jebus.
Rating: DUD
CAL SCALE – 0
More FAP FAP FAP rookie diva stuff. FAP.
Pretty epic JBL promo.
The Undertaker Vs Luther Reigns
Poor Undertaker. THE FUCK did he do to deserve this? Luther nearly FALLS OVER climbing the ropes to pose ffs.
Mark Jindrak gets sent to the back because he won't leave the ring.
at the replay from SD a few days earlier. Undertaker sets up Jindrak for a Tombstone, while Luther grabs a camera from the camera man. THEN HE WAITS FOR UNDERTAKER TO TOMBSTONE HIS TAG PARTNER, LETS HIM GET PINNED, AND ONLY THEN DECIDES TO HIT UNDERTAKER IN THE HEAD
.
PUNCHES TO THE FACE~!
OLD SCHOOL~!
the old "referee is scared shitless of The Undertaker" spot. I <3 that spot. And here is serves a purpose as Reigns uses it to take off a turnbuckle pad!
Undertaker might not be 100% after getting nailed in the head with a camera on SD, so Reigns does his best to keep attacking the head. The turnbuckle pad was part of that plan… but it backfires and Reigns goes back first into it instead. LOL.
Reigns runs away from Undertaker, who chases him into the corner and grabs hold of him, while the referee tries to break it up and Undertaker grabs him by the scruff of his neck and picks him up
.
LOW BLOW~!
REIGNS GRABS UNDERTAKER AND SMASHES THE BACK OF HIS HEAD INTO THAT EXPOSED TURNBUCKLE~!
So Reigns is still targeting the injured head and then… applies a LEG SUBMISSION. I thought Undertaker was the one with a potential concussion? Luther obviously ain't 100% in the head either for this match…
UNDERTAKER COMEBACK~! WORST VERSION OF SNAKE EYES EVER~! UNDERTAKER HAS THE CHANCE TO DO IT ON THE EXPOSED TURNBUCKLE BUT OPS FOR THE ROPES INSTEAD BECAUSE… STUFF~!
Tombstone attempt is countered with a reverse DDT! At least Reigns is mostly keeping with the story of the match… just that damn leg submission that make me wanna shoot him lol.
TOMBSTONE~! Undertaker wins. Duh.
I've heard terrible, terrible things about this match. From stupid people, obviously. Because this ain't bad. Nothing that good either, but a solid match for the most part. Undertaker is awesome as always, and Luther, aside from being a retard and going for that leg submission, was fine on offence when he started targeting the head.
Rating: **
CAL SCALE – 0.5
And the final FAP FAP DIVA FAP stuff. Swimsuit competition. Yey! FAP!
John Cena Vs Kurt Angle – #1 Contender's Match for WWE Title at WrestleMania 21
Tazz butchers the "what brought you to the dance" phrase… which is like the 10th time tonight he's butchered an old phrase/saying lol. Always great when a commentator can't speak properly.
Angle tries to pace the match his way early on, taking Cena to the mat, applying headlocks and taking things slow. Then Cena throws some fists and suddenly the match becomes a brawl and seems to have a ton of HATE~! which seems a little out of place because this isn't a big feud ending match or anything, it's the finals of a tournament
.
Cena takes Angle over the announce table and starts punching him… but the camera pans round so we can SEE the punches… and Cena is just kinda slapping Angle's arm
. The camera angle quickly changes
.
GERMAN SUPLEX INTO THE CORNER~!
KURT ANGLE LIKES TO BE IN A POSITION WHERE HE CAN DOMINATE~!
REST HOLDS~!
TRIPLE GERMANS~!
Angle has worn down Cena and then… ONE SHOULDER TACKLE LATER and Angle is just as fucked up as Cena apparently.
F-U~! Angle kicks out at 2 and Cena is apparently retarded enough to not realise this and thinks he won. THAT ONLY WORKS WITH THE FOOT ON THE ROPES THING YOU HALF WIT.
Angle decides maybe he should work over the leg and ankle of Cena before going for another Ankle Lock. Some of the stomps look pretty brutal.
ANGLE SLAM~! Because… that'll help with the Ankle Lock obviously!!!
ANKLE LOCK~!
REF BUMP~!
NO SELL OF THE ANKLE AS CENA HITS AN F-U~!
Cena wins and then sells the ankle.
Meh. I've seen worse from both men, in matches against each other and against other people. That's like, the biggest compliment I'm giving this.
Rating: **
CAL SCALE – 0.5
JBL Vs The Big Show – WWE Championship Barbed Wire Steel Cage Match
most of the build for this match is Batista Vs JBL… which doesn't even happen until like 4 months later
.
Never understood the need for a Barbed Wire Steel Cage match. Ok, so the barbed wire is to prevent you from climbing out unless you are stupid. So uhhh… why not either a) only allow someone to win by pin or submission or b) have a Hell in a Cell match? Just stick a roof on the damn thing and you're sorted. Hell, they even chain up the door so you can't escape that way. STUPID.
JBL looks awesome throwing those huge punches of his to someone taller than him.
JBL constantly blocking his face being thrown into the side of the cage and looking terrified each time Show tries to do it. BUILDING TO THOSE CAGE SPOTS~!
KNEE CLIP~!
NECKBREAKER~!
JBL instinctively runs up the side of the cage to try and escape… but is met with BARBED WIRE and ends up getting slicing his arm a little, and is then caught by the Giant.
KNOCKOUT PUNCH FROM BIG SHOW~! But he hasn't done his boxing training yet so it's not a finisher
.
JBL is fighting for survival here, and manages to send Big Show head first into the side of the cage, giving us our first cage spot! BIG SHOW IS BLEEDING~!
JBL again tries to climb out, seemingly determined to find an opening somewhere in the barbed wire. But he notices Show is bleeding, and changes his gameplan from "escape" to "destroy the now weakened giant".
Ally Oop into the side of the cage followed up with a powerbomb!!! JBL is now bleeding!!!
OJ and the Basham's try to interfere, but Teddy Long comes out and sends them away, not before OJ slips some bolt cutters through the cage though!
BOLT CUTTERS TO THE HEAD~! CLOTHESLINE FROM HELL~! BIG SHOW KICKED OUT!!!
Nothing seems to be able to stop the Big Show though! CHOKESLAM~!
JBL KICKS OUT~!
LOW BLOW~! BOOT TO THE FACE~!
JBL remembers the bolt cutters, and since his clothesline didn't end the match, he decides to try and cut the barbed wire so he can escape!!!
BATTLE ON THE TOP ROPE~!
CHOKESLAM~!
JBL WENT RIGHT THROUGH THE RING!!! BIG SHOW JUST CHOKESLAMMED THE WWE CHAMPION STRAIGHT TO HELL!!!
Big Show breaks the chain from the door! He opens it, and walks out, right to the main event of WM and the WWE Championship!!!
THE WINNER OF THIS MATCH… AND STILL WWE CHAMPION… JBL!!!
JBL escaped the cage by going UNDER the ring thanks to the broken ring!!!
Oh man, what a fucking finish
. Extremely creative, and a great way for JBL to once again sneak away with the title.
Good match! Nothing out of this world, but a good bloody cage match with a super ending. I enjoyed it!
Rating: ***1/2
CAL SCALE – 3
Overall CAL SCALE – 3